*70% Off On Advertisement*
Welcome to *Bajrai Online Solutions* "`Hyderabad's Biggest Online Directory."`

As you know we are the fastest growing Online Directory of Hyderabad, with *more than* 400 localities of Hyderabad and about 250 and more *business types* listed and with more than 10K views monthly, now we have an offer of *upto 70 % off* on advertisement on *Bajrai Online Solutions.*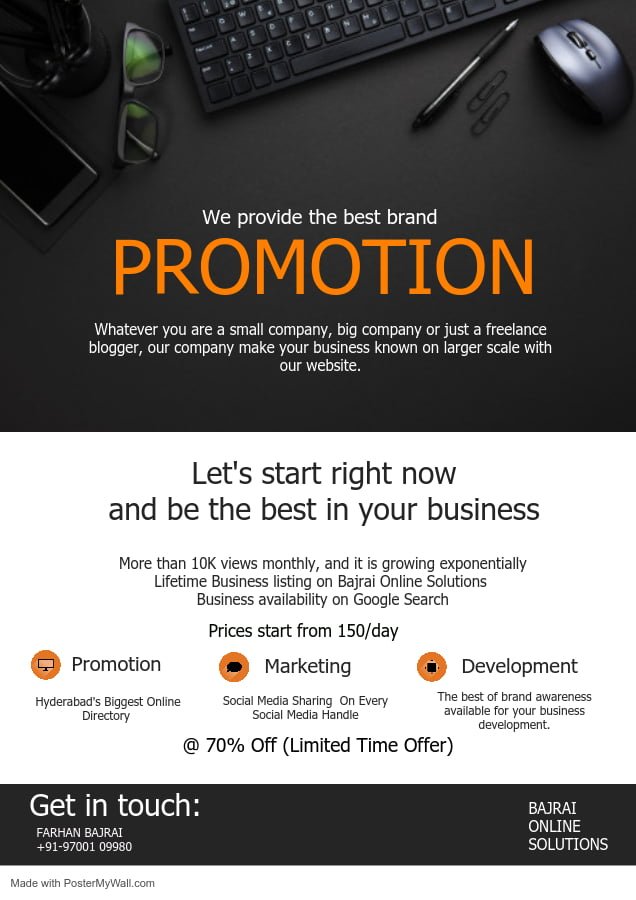 ?? *Benefits you will get while advertising with Bajrai Online Solutions.*
1. 70% off on advertiesment
2. More than 10K views monthly, and it is growing exponentially
3. Lifetime Business listing on Bajrai Online Solutions
4. Business availability on Google Search
5. Social Media Sharing on Bajrai Online Solutions social media handles
6. Brand awareness only and more.
So what are you waiting for advertise Your Business With Us and enjoy these benefits.
Note: Limited period offer
For Details Contact Us