Summer Deeni Program is a short innovative Deen Learning Platform by Idara Ansarul Makatib Hyderabad.
40 Days || From 1st May 2023 || At Madrasa Taleemul Islam, Malakpet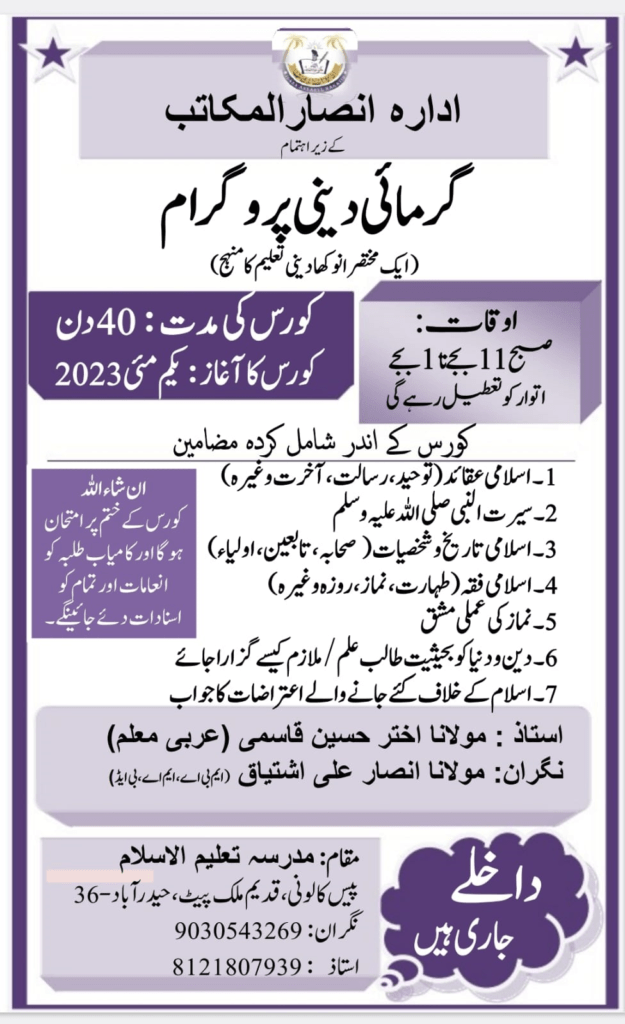 Topics to be Covered in Summer Camp are
Islamic Beliefs (Tauheed, Risalat, Aakhirat)
Blessed Life of Prophet Muhammad Peace Be Upon Him
Islamic Heroes (Sahaba, Tabaeen, Auliya)
Islamic Fiqh of Taharat, Namaz and Roza
Practical Namaz Procedure
How to Balance Deen and Dunya as a Student/ Job Worker
Answering Islamophobes and more…
Mr. Maulana Ansar Ali Ishtiyaq is the incharge of this Camp and Maulana Akhter Husain Qasmi will be the Tutor.
Insha Allah Exam will be conducted after the course and prizes will be awarded to deserving students and all students will receive certificates
For More details contact:
Mr. Maulana Ansar Ali Ishtiyaq : 9030543269
Maulana Akhter Husain Qasmi : 8121807939
Venue: Madrasa Taleemul Islam, Peace Colony, Old Malakpet, Hyderabad.