Aasaan Nahw is one of the basic Arabic Grammar books.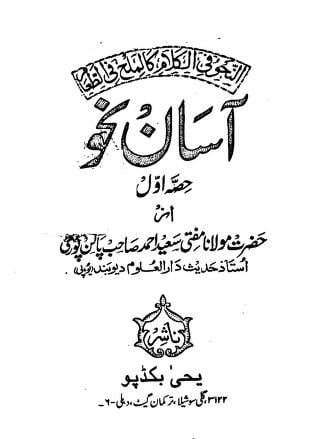 Asan Nahw is written by Mufti Sayeed Ahmed Sahab Palanpuri Rahimahullah.
Ilm e Nahw is very important in the Arabic language. Like Salt in the Food, Nahw is in the Arabic Language
Reason of Writing Asan Nahw part 1
In the Preface of Asan Nahw Vol 1, Mufti Sayeed Sahab mentioned some of the problems of teaching Nahw from the Earlier Urdu Nahw Books. One of them is there is no step by step lessons for Nahw.
So for teaching his Son Nahw, He has written Asan Nahw part 1
Key Features of Asan Nahw part 1
Asan Nahw part 1 is in the Urdu Language
Step by Step basic Nahw rulings is written in Asan Nahw Awwal
Only 33 lessons are there in Asan Nahw Awwal
Only Basic and Important definitions of Nahw (Arabic Grammar) is given with examples
One can teach Asan Nahw Awwal in 2 months…
Asan Nahw Awwal has only 38 pages. One can easily memorise the whole book.
In the syllabus of almost all Madaris
At last Asan Nahw Awwal is one of the best books for learning Arabic Grammar Nahw in the beginning.
Click Here to Download Asan Nahw Urdu Part 1 by Mufti Sayeed Ahmed Sahab Palanpuri here
We suggest our readers buy and read the book instead of downloading.
Asaan Nahw Awwal Lectures
Listen to Asan Nahw 1 Lecture in Urdu language with PPT and practical Examples by Maulana Farhan Bajrai
Written by Abu Amina