Bakoban Medical Hall, Chandrayangutta, Hyderabad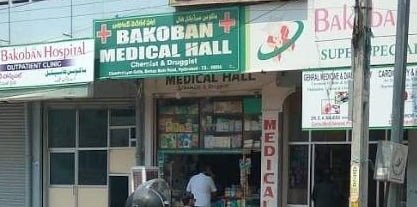 Bakoban Medical Hall , Chemist & Druggist is the pharmacy located in the building of Bakoban Hospital on chandrayangutta Barkas road. One of the specialities of this medical hall is that Bakoban Medical Hall opens early morning while at that time many medicals are closed.
Many medicals are there in that row including Zam Zam and Bin Aifan Pharmacy.
Tags: biggest medical store in hyderabad, medical store near me, medical store in chandrayangutta barkas, top medical stores in hyderabad, list of medical shops in hyderabad, medical shops near me open now, bakoban hospital chandrayangutta, bakoban hospital barkas