FREE SSC (TOSS) ADMISSION
Safa Baitul Maal an NGO from Hyderabad is offering Free SSC TOSS Admission with exam fees & coaching for the year 2021-22.
Eligibility for the Free SSC
Candidates belonging to poor families from Hyderabad and Secunderabad.
Age limit under 35, both Men and Women are encouraged to join.
Prospective candidates should able to read and write basic English/Urdu/Telugu. 
How to Apply For this Free SSC?
To apply Call/ WhatsApp and register Your Name, Address, Qualification and Family Income details.
Our representative will verify and collect the documents at your door step.
What are the Documents required?
Birth Certificate, Aadhaar Card and Photo.
Note: Only first 2000 application will be accepted.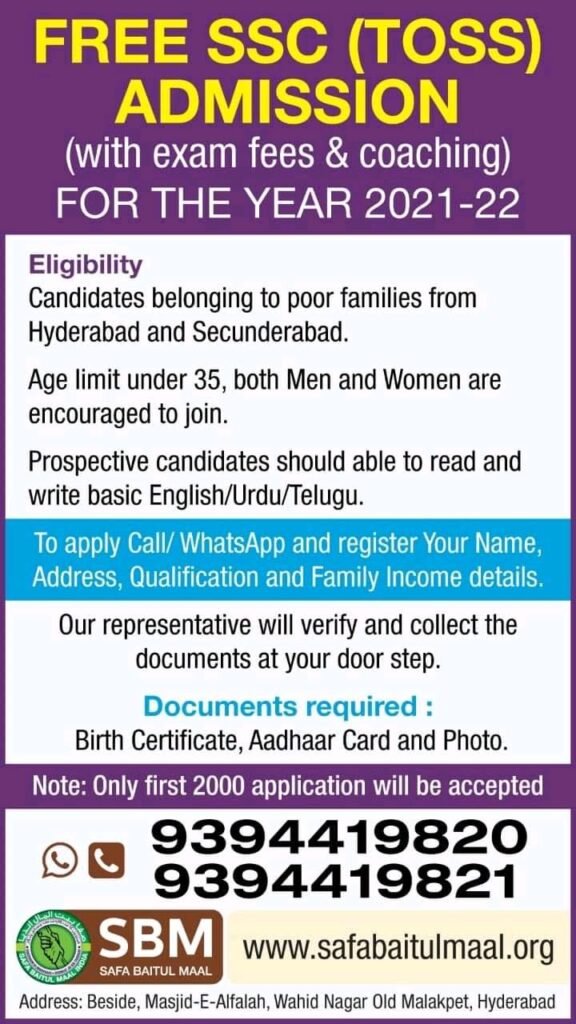 For Details Whatsapp Safa baitul Maal
9394419820, 9394419821
Safa Baitul Maal Address and Website
Address: Beside, Masjid-E-Alfalah, Wahid Nagar Old Malakpet, Hyderabad