Guidelines and Time Table For Practice Papers 2020 Hyderabad Telangana
According to Chairman DCEB and District Educational Officer, Hyderabad District
"To enhance the results in SSC Public Examinations, we had come up with the meticulous process of conducting practice papers in Govt. Schools during the academic year 2018-19. As such Govt. Schools results were enhanced by 12%. With the same spirit, we geared up with practice papers this year too. This academic year these practice papers have been extended to schools of all managements.
Practice papers are developed in SSC Public Examination model and are going to be from 02-01-2020 to 10-2-2020. Everyday one practice paper will be conducted as per the given schedule which covers 2–4 chapters. The ultimate goal of practice papers is to improve the academic standards of the learners in all subjects and to familiarize them with all type of questions framed. These papers help to bring out creative thinking and expression of the learners and to self evaluate which gives an opportunity to put more efforts in areas where they lag behind.
Head Masters should follow the stipulated time table, strictly evaluate the papers and analyze the performance of the students. Based on the performance, remedial teaching should be taken up for the slow-learners and focus on 10/10 GPA aspirants as well.
Special thanks to Subject experts and Secretary, DCEB who have taken keen interest in preparing these practice papers to support the departments effort.
I am sure; this initiative taken would be fruitful and help Hyderabad District to take a giant leap in results of SSC March-2020.
I wish everyone all the best in this endeavour."
Chairman DCEB &
District Educational Officer,
Hyderabad District
Time Table for Practice Papers January – February – 2020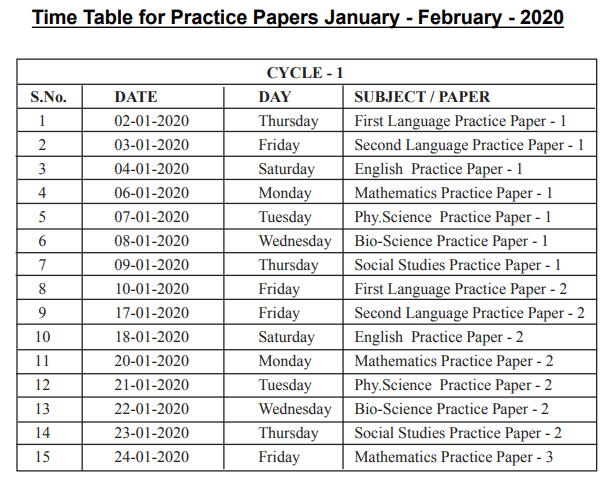 Below is the Pdf Book attached in which Guidelines are given for every subject, to the teachers as well as students.