Hayaath Junior College Shah Ali Banda
Hayaath Junior College is one of the best Junior Colleges in Hyderabad. It is located on the new road of Shah Ali Banda.
It is recognised by the Govt of Telangana and affiliated with TS BIE
The College Code of Hayaath College is 61472
The Tag line of Hayaath College is
Your Guide to Excellence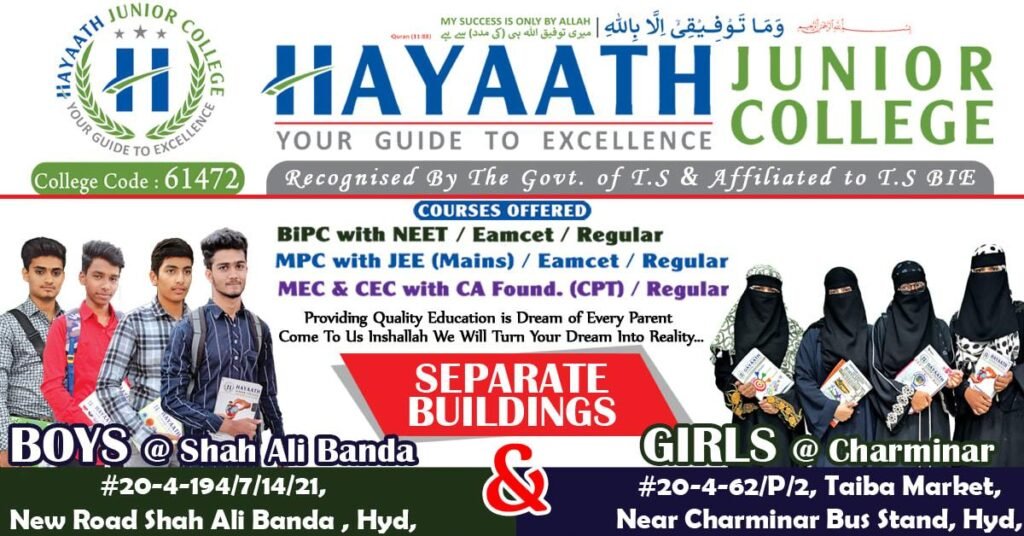 Courses offered by Hayaath College
Bi.PC with Neet
MPC with JEE (Mains)
CEC with CA Foundation (CPT)
MEC with CA Foundation (CPT)
BiPC with Eamcet
MPC with Eamcet
BiPC Regular
MPC Regular
Hayaath College has separate buildings for Boys and Girls.
The rating of Hayaath College is 4.4 on Google out of 72 reviews.
For more details visit the Hayaath College website
The address and Contact Number of Hayaath College (BOYS) is
20-4-194/7/14/21,
New Road Shah Ali Banda,
Shah Ali Banda
Hyderabad
,
Telangana
500002
India
The address and Contact Number of Hayaath College (Girls) is
20-4-62/P/2,
Taiba Market,
near Charminar Bus Stand
Hyderabad
,
Telangana
500002
India