LIMRA HOTEL, ERRA KUNTA
Welcome to Bajrai Online Solutions, Hyderabad's Biggest Online directory.
Today Bajrai Online Solutions is listing Limra Hotel, Erra Kunta
Limra Hotel is located in Erra Kunta X road, near M J Function Hall.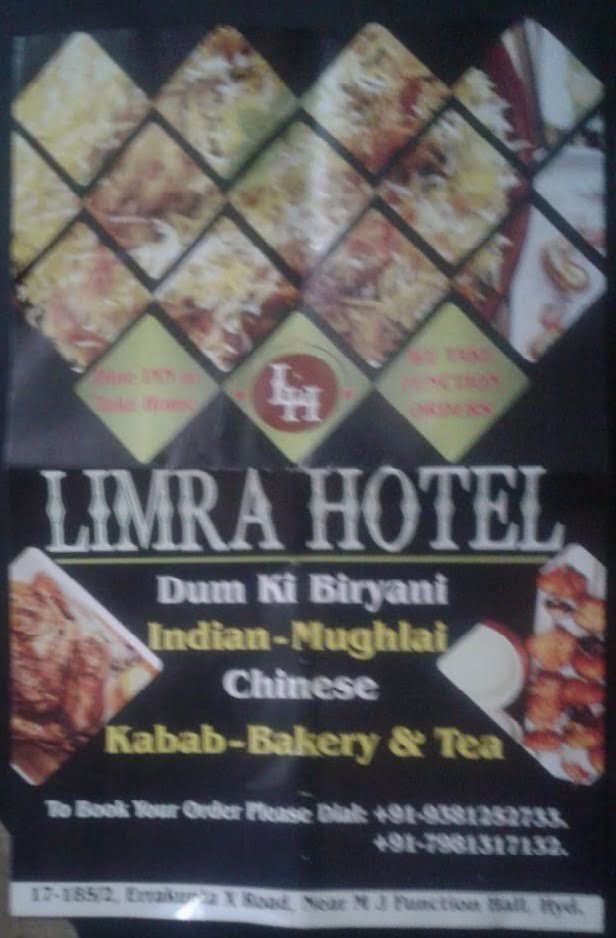 Limra Hotel serves all the hotel Items especially Dum Ki Biryani, Indian-Mughlai Dishes, Chinese dishes, fast food, Kabab and Bakery items.
Limra Hotel also serves delicious Grill Chicken with Rumali Roti and Tandoor ki Roti.
Limra Hotel Takes All function orders. Limra hotel has parcel as well as dine inn facilities.
As per Limra Hotel pamphlet
Mutton Handi Beef
30 members @ Rs. 2400/-
50 members @ Rs. 4000/-
100 members @ Rs. 7500/-
Chicken Handi ( Big Piece)
30 members @ Rs. 3000/-
50 members @ Rs. 5000/-
100 members @ Rs. 9500/-
Bagar Khana, Dalcha
50 members @ Rs. 1200/-
100 members @ Rs. 2000/-
Bagara Khana, Dalcha and Khorma
50 members @ Rs. 2000/-
100 members @ Rs. 3800/-
To Book Your Order Please Dial