SM Shooter Man
Men's Wear
Wholesale and Retail.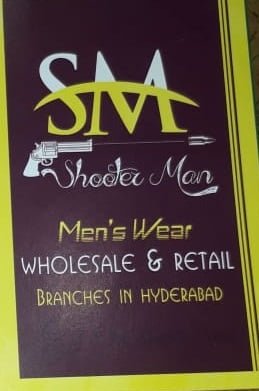 SM shooter Man is men's wear. They have branded men's clothing.
SM shooter Man has its brand and own clothes.
SM Shooter Man has many branches in Hyderabad city at various places like Kishan Bagh, Tadban, Tolichowki, Attapur, Karwan, Rambagh, Edi Bazar, Moin Bagh, Madannapet, Baba Nagar, Shaheen Nagar, Vattepally, Shastripuram, Jahanuma, Golconda Fort.
Contact Number of each branch is provided in the photo