Aasan Usoole Fiqh is written by Faqeehul Asr Maulana Khalid Saifullah Rahmani in the year 1992.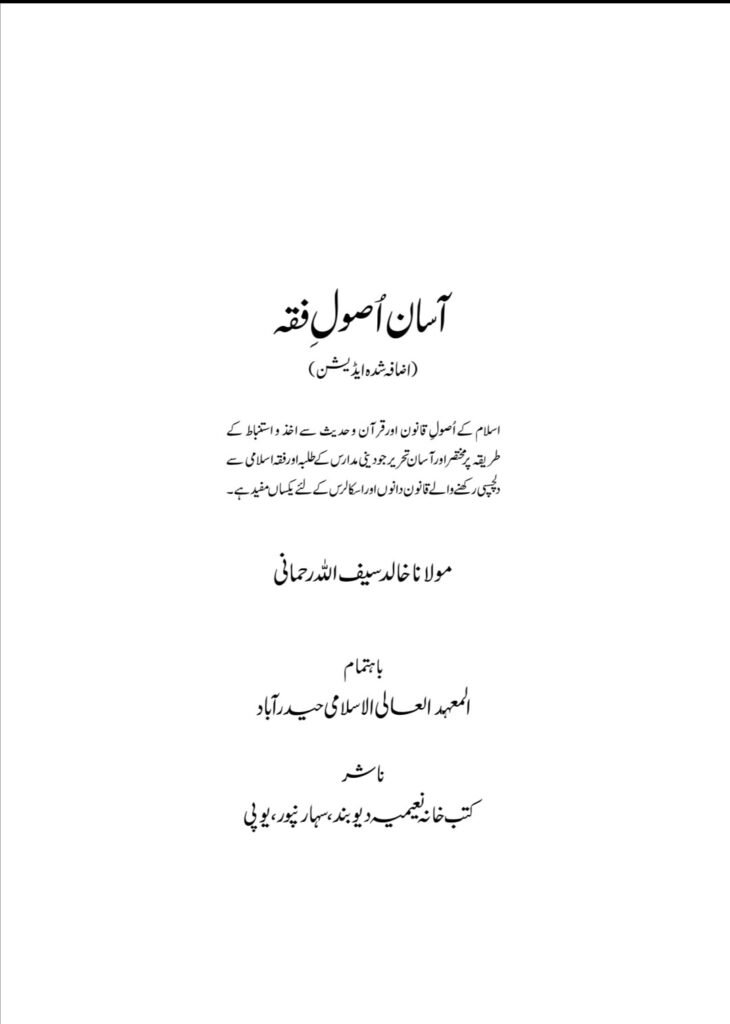 What is Usool e Fiqh?
Usool e Fiqh ( or Principles Laws of Islamic Jurisprudence) are the rules by which the method of deriving practical Shariah rules from Shariah arguments is known.
Topics covered in Aasan Usool e Fiqh
Basically, The Book is divided in 3 parts, namely,
Adilla-e-Shariyah,
Ahkaam e Shariyah, and
Istimbaat e Ahkaam ke Tareekhe
In tthe first part ie., Adillae Shariyah, Maulana Khalid Saifullah Rahmani sahab discussed the topics Muttafaq Adilla-e-Shariyah and Mukhtalaf Feeh Adilla-e-Shariyah.
In the second part, ie., Ahkaam-e-Shariyah, the author discussed the topics related to Ahkaam like Farz, Wajib, Sunnat, mustahab, Haram, Makrooh etc.
At last, Maulana Rahmani discussed about how to derive practical Shariah in Istimbaat e Ahkaam ke Tareekhe.
Key Features of Aasan Usool e Fiqh
The book is in easy Urdu Language for beginners
There are exercises in the end of each topic or lesson
The book is included in the syllabus of almost all Madaris
Briefly all topics of Usool is discussed.
Meanwhile, the Book has edited and updated in the year 2014.
Download Aasan Usool e Fiqh by Maulana Khalid Saifullah Rahmani pdf
??????? ???? ???? ??? ?? ?????? ???? ??? ???? ??????
You can download all the books of Maulana Khalid Saifullah Rahmani from here