New Deccan Junior College is a Junior College exclusive for Girls in Santosh Nagar, Hyderabad. It is recognised by the Telangana State Board of Intermediate Education.
The College Code of New Deccan Junior College is 61380.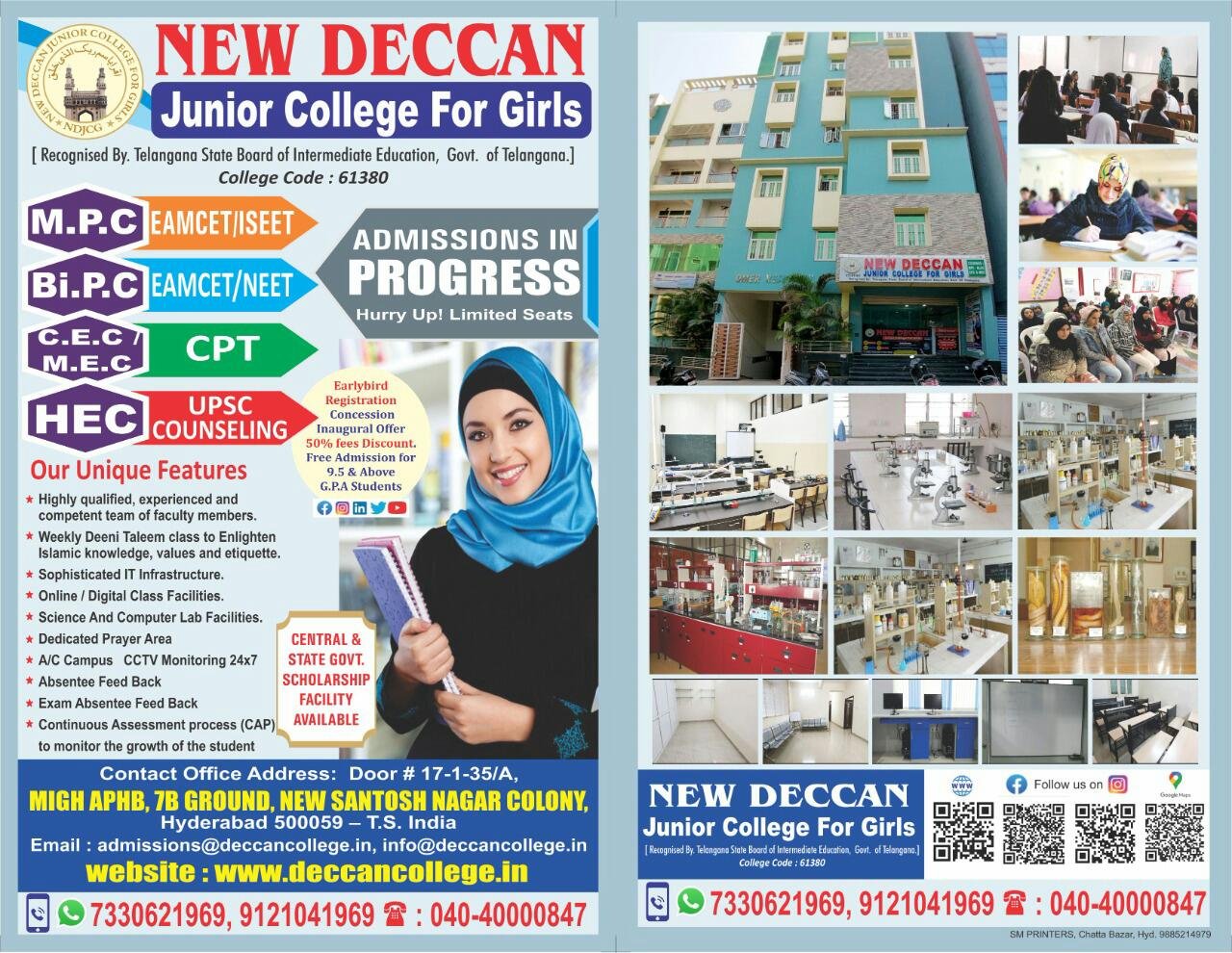 Courses offered by New Deccan Junior College are
M.P.C with EAMCET/ ISEET
Bi.P.C with EAMCET/ NEET
C.E.C with CPT
M.E.C with CPT
HEC with UPSC Counseling
Unique Features of New Deccan Junior College For Girls
Highly qualified, experienced and competent team of faculty members
Weekly Deeni Taleem class to Enlighten Islamic Knowledge, values and etiquette
Sophisticated IT infrastructure
Online/ Digital Class facilities
Science and Computer Lab facilities
 Dedicated Prayer area
A/C campus with CCTV monitoring 24 x 7
Absentee feedback
Exam Absentee feedback
Continuous assessment process (CAP) to monitor the growth of the student.
For more details visit New Deccan Junior College Website or contact them
New Deccan Junior College for Girls address and contact number
Office Address: #17-1-35/A, MIGH APHB, New Santosh Nagar Colony, Hyderabad, 500059
Email: admissions@deccancollege.in
Contact Numbers:
[icon name="whatsapp-square" prefix="fab"] 7330621969
[icon name="phone" prefix="fas"] 9121041969
[icon name="phone-square" prefix="fas"] 040-40000847